Van Speech - Made Simple!
FOR SALE: 'Transit T350, l3h3, Euro-5, ABS, ESP, EBA, EBD, ROM, HLA, LAC, FWD, Deadlocks. Frozen White. Manual 6-Speed, 125PS, 2.2 litre Duratorq TDCi with cDPF, Long MoT'
Yep! We all know what that means... Don't We?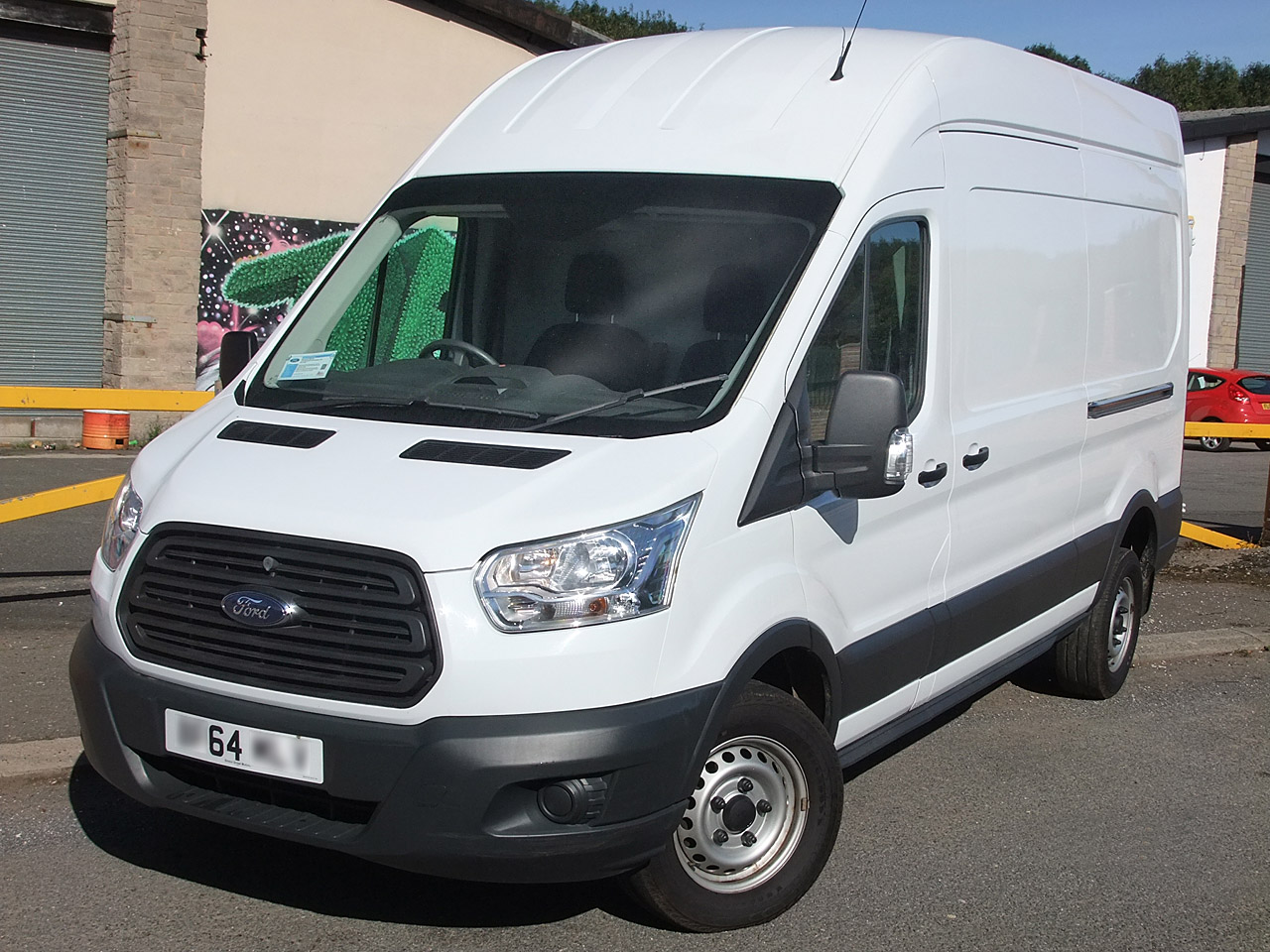 A quick translation into plain English would read as:  
Ford Transit Commercial Van, Model T350 (3.5t Gross Vehicle Weight), long-wheelbase, high-roof with Euro-5 classification, (European emission standards define the acceptable limits for exhaust emissions of vehicles). The vehicle comes fitted with ABS anti-lock braking, electronic stability programme, emergency brake assist, electronic brakeforce distribution, roll-over mitigation, hill launch assist, load-adaptive control, front-wheel drive transmission and has deadlocks fitted to the doors to increase security. The paintwork colour is called 'Frozen White' by manufacturer Ford -  and the vehicle has a manual 6-speed gearbox (automatics are quite rare). 125PS is the amount of power produced by the engine (vehicle manufacturers quote a power output rating - 'PS' - which stands for Pferdestrke (translates to 'horse strength'). The actual engine is a 2.2 litre turbo diesel common-rail injection unit and has a Catalysed Diesel Particulate Filter fitted. Still has MoT Certificate.
No wonder the vehicle manufacturing industry has adopted so many acronyms (an abbreviation formed from the initial letters of words and pronounced as a word) - even the explanation needs an explanation!
Here's our list of 'Van Speech' words and phrases - and the translation into plain English.
ABS - Anti-lock braking system, now common on most vehicles.
Air Con, A/C - Air conditioning system.
ASR  - Anti-slip regulation. Designed to prevent loss of traction of the driving road wheels, linked with ABS and ESP systems.
Auto - Automatic transmission.
AWD - All wheel drive, 4x4
Barn Doors - Is the name given to the twin rear doors on most Luton type vans - each door opens to the side, just like traditional barn doors.
BAS - Hydraulic brake assist system.
Beavertail - Truck with integrated loading ramps and angled rear end. Ideally suited for heavy plant.
Bluetooth - Telephone connection between your vehicle and your mobile smart phone. Allows hands-free telephone conversations.
Box Van - A van with a box-shaped body. Vans with box bodies are usually referred to as Luton Vans.
Bulkhead - Protective partition between driver's cab and the cargo area. Can be retro fitted.
CBC - Cornering Brake Control
Climate - Climate control air conditioning.
COIF - Certificate Of Initial Fitness, A vehicle with more than 8 passenger seats designed to transport people for profit, also known as a Public Service Vehicle (PSV), must be approved and have a Certificate of Initial Fitness (COIF).
Crew Cab - A van or pick-up with a crew cab has TWO rows of seats. The front row - the driver's seat and a 1 or 2 passenger seats) and a second row, a further two or three passenger seats.
Cruise - Cruise Control, may also have adjustable speed limiter.
Curtain-Sider -  Also known as 'Tautliner' - offers the load carrying volume of a large box body, with the added benefit of unrestricted access from three sides during loading and unloading.
Dead Locks - A Deadlock is a mechanical device fitted to a vehicle door. It operates by throwing a bolt into a receiver fitted to the opposing body section when operated by an external key. They are generally only appropriate for owner drivers or applications where the driver can be relied upon to operate the lock. Further information:  
DPF - Diesel particulate filter. See our article
Dropside - A van or truck with an open load area that has short vertical sides and a vertical tailgate. The side panels are known as 'dropsides' because they can be unfastened and opened outwards - so that they hang down vertically, leaving the load area open. They are ideal for transporting building supplies and other such items.
Double Cab - A front passenger cab that contains a second row of seats and is capable of seating around 4 passengers, plus the driver and has four doors capable of being opened independently.
EBA - Emergency brake assist.
EBD - Electronic brakeforce distribution.
ECO - EcoMode - refers to engine auto stop start systems which cut fuel consumption and reduce emissions.
EDC - Engine Drag Control.
EDL - Electronic differential lock.
EF  - (extended frame) - The classification given to extra-long vans with even bigger load areas!
ELWB  - Extra-long wheel base - the classification given to longer vans with bigger load areas. Perhaps the most popular is the Ford Transit 'Jumbo' or the Mercedes Sprinter; both extra-long panel vans designed to take a full-sized (4m) roll of carpet. The wheelbase is the distance between the front and rear wheels - the longer it is, the more you can fit in.
EM - Electric mirrors.   EHM - Electrically heated mirrors.   EHFM - Electrically heated folding mirrors.
ESP - Electronic Stability Program. (Sometimes called Electronic Stabilisation Control - ESC).
EW - Electric Windows.
Euro-5 - European emission standards define the acceptable limits for exhaust emissions of vehicles. Further information :  
Frail - The term used to describe the racking system usually positioned on the outside of a commercial vehicle, to carry sheets of glass or windows. (ie: 'Glazing Van with Aluminium Side FRAIL for Glass/Window Carrying').
FWD - Front wheel drive.
GVW - Gross vehicle weight. The weight of a vehicle or trailer including the maximum load that can be carried safely when it's being used on the road.  Government legislation  

HLA - Hill launch assist or SOA - start off assist.
L1H1 - Vehicle length and roof height. L1H1 is SWB, low-roof.
L2H2 - Vehicle length and roof height. L2H2 is MWB, medium-roof.
L3H3 - Vehicle length and roof height. L3H3 is LWB, high-roof.
Load Space - The internal space in a van that can be used to carry a cargo.
LAC - Load adaptive control.
LGV - 'LGV' can be used to refer to two types of commercial vehicle: Light Goods Vehicles - refers to a commercial vehicle with a gross vehicle weight of no more than 3.5 tonnes. These vehicles are usually able to be driven on a standard car licence otherwise known as Category B.
Large Goods Vehicles is the official EU term for a vehicle with a gross vehicle weight of over 3.5 tonnes. Any goods vehicle over 3.5 tonnes has its own licence category and therefore the user must have the relevant licence in order to drive that type of vehicle.
Lined - Interior of the vehicle is lined with protective material, usually ply-wood = 'ply-lined'.
LOLER Certificate - The Lifting Operations Lifting Equipment Regulations (LOLER) - a set of regulations created under the Health and Safety at Work Act regarding the use of lifting equipment.
Luton - A Luton Van is a 3.5t van with a square(ish) high-roof box body that extends over the cab. These have a bigger, more flexible load space than a panel van - great for furniture and household moves.
LWB  - Long wheel base - The classification given to longer vans with bigger load areas. The wheelbase is the distance between the front and rear wheels - the longer it is, the more you can fit in.
Maximum laden (loaded) weight - The total weight of a vehicle including its load. The maximum weight allowed. 3.5t / 3.5 tonne is 3500kg.  All vans up to this weight can be driven with a standard car licence.
MEWP - Mobile elevating work platform or 'cherry picker.'
Moffett - (formerly known as Moffett Mounty), is a Truck-mounted Forklift.
MoT - The MOT Test (Ministry of Transport) is an annual test of vehicle safety, roadworthiness and exhaust emissions required in Great Britain for most vehicles over three years old.
MWB  - Medium Wheel Base - The classification between SWB (short wheel base) and LWB (long wheel base) in length.
Panel Van - The usual 'Transit-style' van with a panelled body. Can have windows fitted in the sides or rear doors. (Glazed rear doors).
Parking - The vehicle is fitted with parking sensors, can be both front and rear sensors, audible or linked to an in-dash display.
PAS - Power assisted steering.
Payload - Used to describe the maximum weight a van can carry.
Pick-up - A car or van-based vehicle with an open rear load area that has fixed vertical sides and an opening tailgate to allow easy loading and unloading.
RCL - Remote central locking. All the vehicle doors are locked/unlocked via a remote key.
Ply Lined - Interior of the vehicle is lined with protective material, usually ply-wood.
Quick Clear Heated Windscreen - 'Quickclear' is a European trademark used by the Ford Motor Company for its electrically heated windscreen technology. The system uses a mesh of very thin (almost invisible) heating wires embedded between two layers of windscreen glass, to demist or defrost the screen.
Roller Door - A roller-shutter type door - simply rolls up into the vehicle's roof to allow goods to be loaded.
ROM - Roll over mitigation.
RWD - Rear wheel drive.
RWW - Rear Wash Wipe, a wiper fitted to the rear screen of the vehicle.
Sat Nav - Satellite Navigation system.
Shipping Dimensions - The length, height and (sometimes) width measurements of a vehicle are required when booking a van on a ferry crossing. Roof racks or other extensions front and rear must be included.
Single Cab - A van or pick-up with a single cab that has just one row of seats, a driver's seat and one or two passenger seats.
Slamlocks - A device that automatically locks the vehicle door immediately it is shut, without requiring any operation by the driver. Ideal for multi drop deliveries. For further information click to: - http://www.locks4vans.co.uk
SLD - Side Loading Door (usually a sliding door) on the near side of panel vans. Great for loading direct from a pavement or when there is limited room to open the rear doors. Also means you can access the front of the cargo space without having to climb over everything from the back. Some vans have twin side loading doors (one on either side).
Sleeper Cab - A truck or lorry cab with a sleeping bunk behind the seating area, in which the driver can sleep during rest breaks on long journeys away from home.
SWB  - Short wheel base - The classification given to shorter vans - size is similar to the medium family car. The wheel base is the distance between the front and rear wheels. Easy to drive as a family car.
Tacho / Tachograph  - A device fitted to a vehicle that automatically records its speed and distance travelled ensuring drivers and employers follow the rules on drivers' hours.  Official legislation .  
Tail Lift - A hydraulic platform that unfolds from the rear of a van allowing heavy or bulky goods to be moved. Common on Luton Vans, some tail-lifts can lift upto 500Kg. Ideal for getting heavy or bulky items into the load area. (Tail lift design types include: Parallel Arm, Railgate, Column, Cantilever, Tuckunder and Slider). A lot of our vans at Maun Motors have the DEL SlimJim lift, which is a very neat, compact version fitted to the outside of the vehicle.
Tailgate - The load area is secured/fastened by a vertical panel/door - 'the tailgate'. Most tailgates are hinged to allow them to open and provide a flat access to the cargo area.
TDCi - Turbo Diesel Common-rail injection system.
Tipper - A van or truck with a load area that can be mechanically raised up at an angle to allow the load (sand, gravel, etc.) to be 'tipped' out onto the ground behind the vehicle, (no more shovelling to empty the load!). Tipper tailgates are hinged at the top and can be unfastened at the bottom to allow the tailgate to swing away from the load deck, so the load can slide out underneath the tailgate, onto the ground. One-way, Two-way or even Three-way tipping systems are available.
Traction Control (ASR) - Anti-slip regulation. Designed to prevent loss of traction of the driving road wheels, linked with ABS and ESP systems.
Tractor Unit - A tractor unit (prime mover or traction unit) is a characteristically heavy-duty towing engine that provides motive power for hauling a towed or trailered load.
TSC - Trailer Sway Control.
Truck - A category of goods vehicles of 3.5t maximum laden weight upwards.
Unladen Weight - The weight of a van excluding passengers or cargo.
Wheelbase / Wheel Base - The distance between the front and rear wheels of a van. Indicates the size of the van. SWB, MWB, LWB, XLWB, EF is the extended frame.