Driving in Central London
London Congestion Charge - (LCC)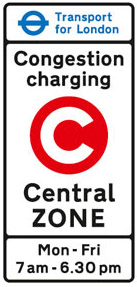 In 2003, the London Congestion Charge (LCC) was introduced to try and alleviate traffic-jams and snarl-ups in the center of the City and to reduce air pollution for both city residents and visitors alike. Since then, anyone driving in the Congestion Charge Area has been required to pay a Congestion Charge fee.
(The LCC area extends from Euston and Finsbury in the North to Kennington in the South - and from Hyde Park and Belgravia in the West to Tower Bridge in the East. It includes most of Central London, including the City, Covent Garden, West End and Westminster).

Download a congestion charge area map here.

Driving within the Congestion Zone between 07:00 and 18:00, Monday to Friday, the Congestion Charge is £11.50 daily, you only need to pay once for that day, regardless of how many times you drive in and out of the Zone. The Congestion Charge applies to central London only and does not include the Dartford Crossing Dart Charge.
If your vehicle meets the required emissions standards you will pay the Congestion Charge. If it does not meet the standards then your charge will include an additional cost for the T-Charge. If your vehicle is exempt or discounted from the Congestion Charge and does not meet the Emissions standards then you may still need to pay the T-Charge. The charge you need to pay will be automatically calculated and displayed

Payment: You can pay in advance; on the day of travel; or by midnight the following charging day.
By paying in advance, (or on the same day), the daily charge is £11.50, but increases to £14 if paid the following charging day.
 It is possible to reduce the costs by £1 a day via Auto Pay. If you don't pay - you'll get a Penalty Charge Notice (PCN).
---
T-Charge - (Toxicity Charge)
Older vehicles driven in Central London now need to meet minimum Euro Emission Standards or pay an EXTRA daily charge. This includes cars, vans, minibuses, buses, coaches and HGVs which do not meet Euro 4 Emissions Standards.
The 'T-Charge' was introduced in October 2017 as part of a plan by London Mayor Sadiq Khan to address air pollution; (London currently exceeds the World Health Organisation's limit for PM2.5 particles).
The 'T-Charge' (costing £10), is in addition to the Congestion Charge and applies to diesel and petrol fuelled vehicles registered before 2006. Therefore, drivers of older, more polluting vehicles have to pay almost twice as much to drive in Central London.  The T-Charge (officially known as the Emissions Surcharge) operates on top of (and during the same operating times as) the Congestion Charge (Monday to Friday, 7am-6pm), resulting in a cost of £21.50 to drive in the zone if your vehicle is affected.
Nine(+) seater vehicles that are currently registered for a discount or are exempt from paying the charge will need to meet the required emissions standards or pay the T-Charge.
The minimum emissions standards are:
Euro 4 for both petrol and diesel vehicles
Euro 3 for motorised tricycles and quadricycles

T-Charge Compliance Checker
If you drive your van in Central London, there is no way of avoiding the London Congestion Charge, but you can reduce costs by planning any trips: For example: Arranging all your deliveries into four/five days instead of five/six, will substantially reduce costs over the year. Similarly, buying a larger van will reduce the number of trips you need to make.
Perhaps it's time to replace your older motor with a more modern vehicle -
with a new agenda ensuring 'exhaust emissions' are a high priority!
Coming to a City near you:
The Department for Environment, Food and Rural Affairs (Defra) has advised 'City Authorities in Birmingham, Leeds, Southampton, Derby and Nottingham to impose charges for some polluting diesel vehicles' by introducing Clean Air Zones.
---
Low Emission Zone - (LEZ)
The Low Emission Zone (LEZ) operates to encourage the most polluting vehicles driving in London to become cleaner.
Launched in February 2008, the LEZ covers most of Greater London and operates 24 hours a day, every day of the year. It applies to diesel lorries, buses, coaches, motor caravans, motorised horseboxes, larger vans, minibuses and other specialist vehicles. Cars and motorcycles are not affected.
Vans and minibuses with a GVW of up to 3.5 tonnes must meet at least the Euro 3 emissions standard. For large vans, minibuses, lorries and coaches with a GVW in excess of 3.5t, vehicles must meet Euro VI emissions standards to enter without paying the LEZ daily charge.

If your vehicle does not meet the required emissions standards, you must pay a daily charge for each day it's driven within the LEZ. The charging day operates from midnight to midnight. So, if you were to drive within the LEZ between 11.30pm and 01.00am the next day, you'd need to pay for two days. Charges apply every day of the year, including weekends and public holidays.
Remember, the LEZ is NOT the same as the Central London Congestion Charging Zone.
The Congestion Charge applies 7.00am- 6.00pm, Monday to Friday, excluding bank holidays.
If you drive within the Congestion Charging zone during these times you will have to pay the Congestion Charge, even if you meet the LEZ emissions standards or have already paid the LEZ daily charge.
---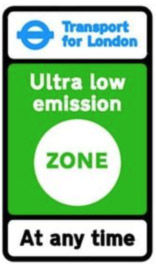 Ultra-Low Emission Zone - (ULEZ)
From 8th April 2019, most vehicles travelling in Central London will need to conform to new Ultra-Low Exhaust Emission Standards (ULEZ Standards) - or pay the daily charge.
It was introduced in London to combat air pollution by discouraging drivers from entering the most polluted areas in unsuitable vehicles. Since its introduction, the ULEZ has expanded, so in order to ensure your vehicle meets the current regulations, it's best to check the ULEZ website.
The Ultra-Low Emission Zone will replace the 'T-Charge' and will affect all vehicles apart from 'Black Taxis'. It covers the same area as the existing Congestion Zone and will be in ADDITION to the Congestion Charge and the Low Emission Zone requirements. The ULEZ will operate 24 hours a day, seven days a week.
The Ultra-Low Emissions Zone Regulations:
Euro 3 for motorcycles, mopeds, motorised tricycles and quadricycles
Euro 4 for petrol cars, vans, minibuses and other specialist vehicles
Euro 6 for diesel cars, vans and minibuses and other specialist vehicles
Euro 6 for lorries, buses and coaches and other specialist heavy vehicles
Costs: Motorbikes, cars, vans and minibuses that don't meet the minimum emissions requirements will have to pay £12.50 for every day that they drive in the zone.
Lorry and bus drivers of vehicles not meeting the emissions - will be charged £100 each day.
If the vehicle doesn't meet the ULEZ emissions standards and the daily charge is not paid, a Penalty Charge Notice (PCN) will be issued to the registered keeper. This penalty is in addition to any CC or LEZ penalties received. For motorcycles, cars, vans and minibuses this will be £130 (reduced to £65 if paid within 14 days), while HGVs, coaches and buses will face a £1,000 fine (£500 if paid within 14 days)
Check your vehicle
Transport for London have introduced a an online tool which checks your vehicle's compliance with the entry requirements of all the "Restricted Zones" in operation. All you do is enter your vehicle registration number and it will tell you any charges your vehicle would be liable for if it was to enter London. Simple! Check your vehicle registration here.
Information courtesy of 'Transport for London'  (Great site for visitors!)