Transforming a Transporter
A little while ago, one of our customers bought a VW Transporter Kombi to personalise and customise to his own individual taste, using a mixture of self-install components he picked up from Trade Van Accessories of Huthwaite, Nottinghamshire.
He lowered the suspension, added components, alloys, sliders etc. and went on to create a stunning bespoke interior.  (He'd previously worked in the motor industry, so already had an idea how he wanted his Transporter to finish up).
He bought a very desirable Transporter Highline 180ps DSG 4Motion one-year-old van from us - it only had 7,000 miles on the clock, (already a top-spec motor) - and then set to work creating his 'dream machine'.
Choosing a low-mileage, one-year-old van from Maun Motors gave significant savings on the new price, so the customising costs were well within budget. He started creating his very own 'Special' with the remit to: 'make it look sporty and eye-catching, create a good advertisement for my business but also to be very practical for a growing family.'
First thing to change was the alloy wheels and drop the springs... the Transporter already had superb 5-spoke factory alloys fitted, but if you are going to alter the look, why not chose much bigger 'skinny 5-spokes' to show-off the colour-co-ordinated brake calipers.
The 'before' shots (left) are our 'standard' photographs which we use for our websites - and to the right are the customer's finished pics.  If you look closely you will notice new alloy wheels, brake discs and calipers, a complete front-end overhaul, roof-rails, slider bars, lowered suspension, custom VW badges, rear bumper and exhaust trims, tinted glass, rear spoiler, rear light clusters, skinny tyres... the 'Full Monty' as we would say! (We've obviously blanked-out the personal number plate!).

Moving to the inside, there's a new leather sports interior with orange inlay, colour co-ordinated orange seatbelts(!), GT steering wheel, security system, Captains' seat, roof and side linings (complete with LED lighting system), touchscreen Sat Nav and sound system with multiple additional speakers. Not too shabby...!

The re-upholstered back seats and roof-mounted LED lighting are quite an improvement on the 'standard' Highline interior.

The Front End...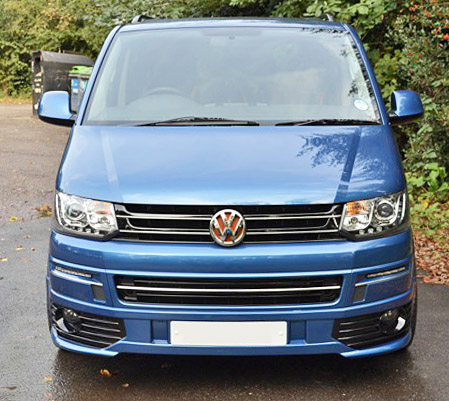 Looking directly at the front of the completed Transporter, you really appreciate the individual quality and styling of the new front end. 
All-in-all this van is properly tricked out!
We particularly like the custom Vee-Dub badge with colour accents, a very nice touch!
Have you customised your VW?
Send us the photos and details and we'll try to feature them on our websites for the whole world to see and admire. E-Mail us .
Every VW Van is available with a huge selection of factory-fitted options, but even Volkswagen have got in on the customisation act by offering "VW Add Ons"; their range of approved accessories, which can be bought and fitted at your local VW Centre.
Whether you want to add style, get more from your load area, turn a working van into a leisure vehicle, or add audio, Bluetooth® or satellite navigation, they have a solution to suit.  They even offer OEM approved suspension lowering kits! They're a perfect match for style and fit and built to be as rugged and long-lasting as your motor.
Click for the latest VW accessories.