Best Volkswagen Transporter Accessories on the Web!
Our pick of the top kit - to make your VW Transporter stand out from the crowd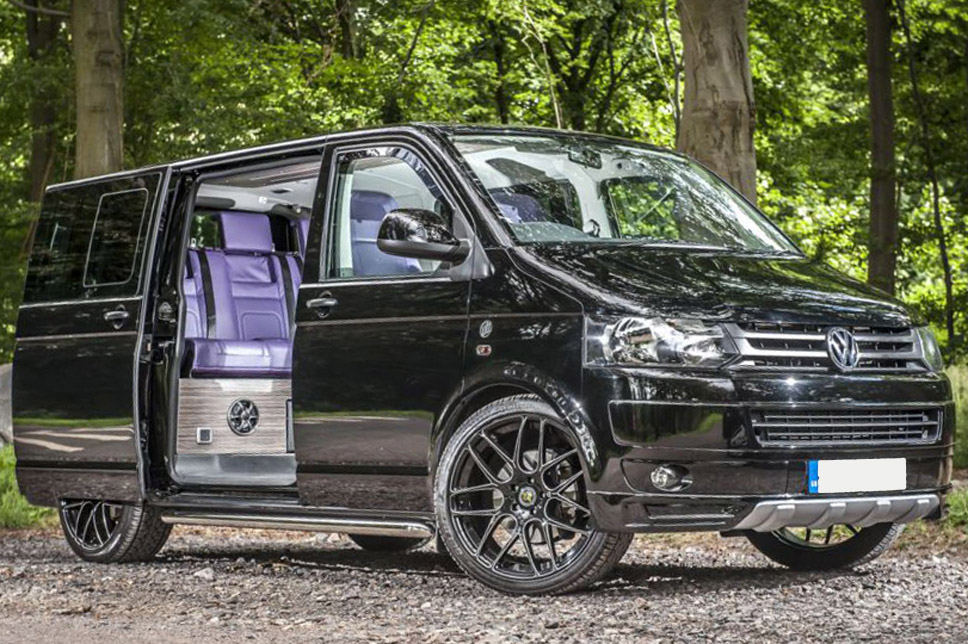 Picture courtesy of: www.uberbus.co.uk
A few minutes searching the Internet will soon reveal some stunning examples of 'accessorised' vehicles - like this VW Transporter Kombi pictured above from Uberbus - complete with custom interior, sexy alloys and an amazingly sophisticated glossy paint-job - it will definitely get you noticed cruising down the High Street!


Simply stunning work from the Dorset company!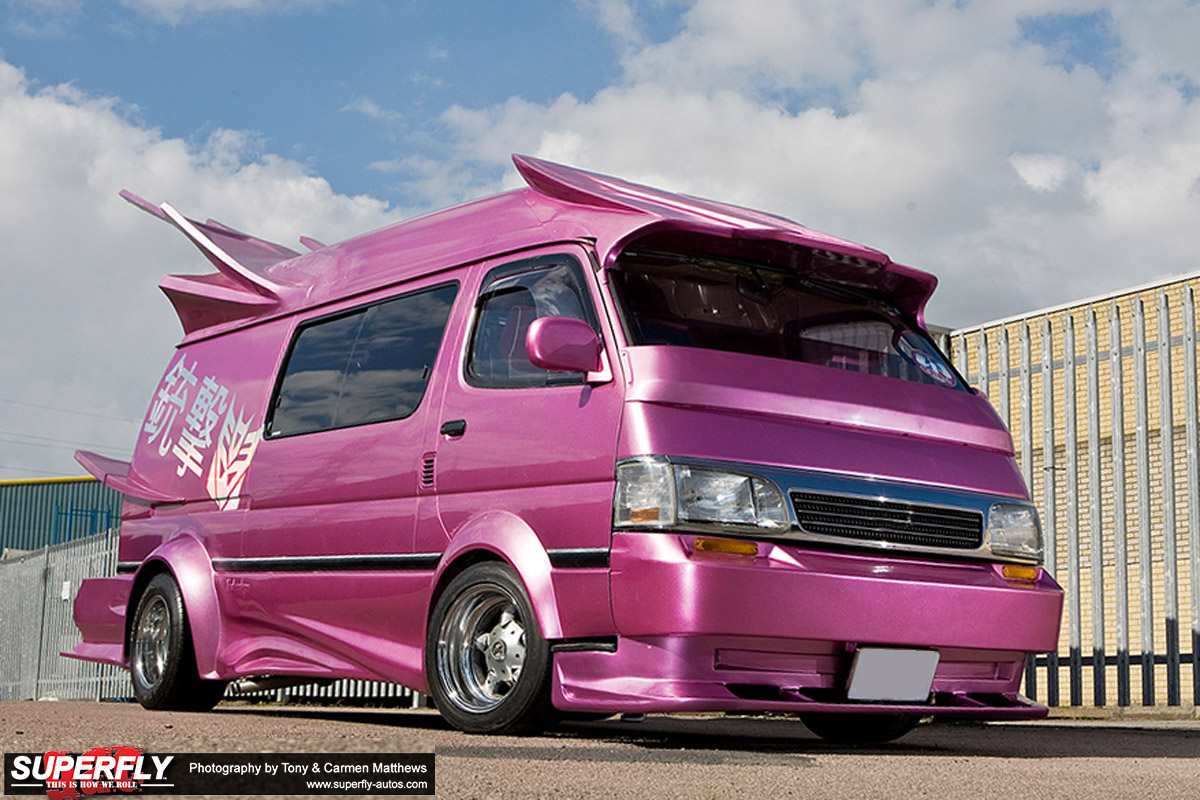 The sky's the limit when it comes to personalising your van - but where do you stop?
Generally, 'When the budget runs out!' - is the usual answer, but this spectacular van (left) shows just how far your imagination (or budget) can be stretched.
Just imagine driving this beauty into the supermarket car park! It would definitely turn heads (but for the right reasons?!) - and would not really be for the shy, retiring types.
But myriad accessories, which are a little more down to earth (and less costly), are widely available to customise and personalise your motor. A few examples of van accessories which are easily fitted and widely available 'off the shelf' are: alloy wheels, door mirror covers, chrome door handles, stainless steel side-bars/side-steps, A-Bars, roof rails, spoilers, auxiliary lights... the list is endless!
Interiors can be personalised with dashboard kits in wood, carbon fibre, aluminium or chrome finishes. Not forgetting side and roof carpeting/quilting and 'mood' lighting with easily fitted LED's to highlight key areas. Nothing brings a touch of class like luxury van leather seating, (if only for the gorgeous leathery smell). Notice we haven't even touched on media systems yet!
---
Perhaps the first and best addition to your van to bring 'street cred' is a set of shiny new...
Alloy Wheels
Fitting your van with alloy wheels is not quite as simple as it sounds, you have to do your homework first - never fit alloy wheels meant for cars, as these might have lower load ratings than your van or commercial vehicle requires. The same goes when selecting appropriate tyres; ensure they have the relevant load rating for your vehicle. Remember your van is designed to carry a lot more weight than the average car!
Getting the correct fitting alloys can be an enlightening experience and it's worth sourcing them from experts. So, consult your local garage or vehicle styling specialists for up-to-date info on stud patterns, tyre sizes, weight and speed ratings, suitability, etc.
Volkswagen's own alloys are not too shabby themselves, here's a few we've photographed (below) from our stock of used Transporter vans to highlight the wide range of availability.

With so many specialist aftermarket wheel designs available straight 'off-the-shelf', there's a mind-boggling array of alloys available.
If "old-school" aluminium or black wheels aren't your bag, today's modern colours are absolutely amazing - designed to complement your vehicle's colour-scheme and good looks - with either subtle colour accents - or full-blown 'in-your-face' colour! It all depends on the size of your bank balance! Just make sure your new wheels and tyres are safe and legal for fitting to your van. Any specialist van styling company should be able to advise on correct load rating and fitting.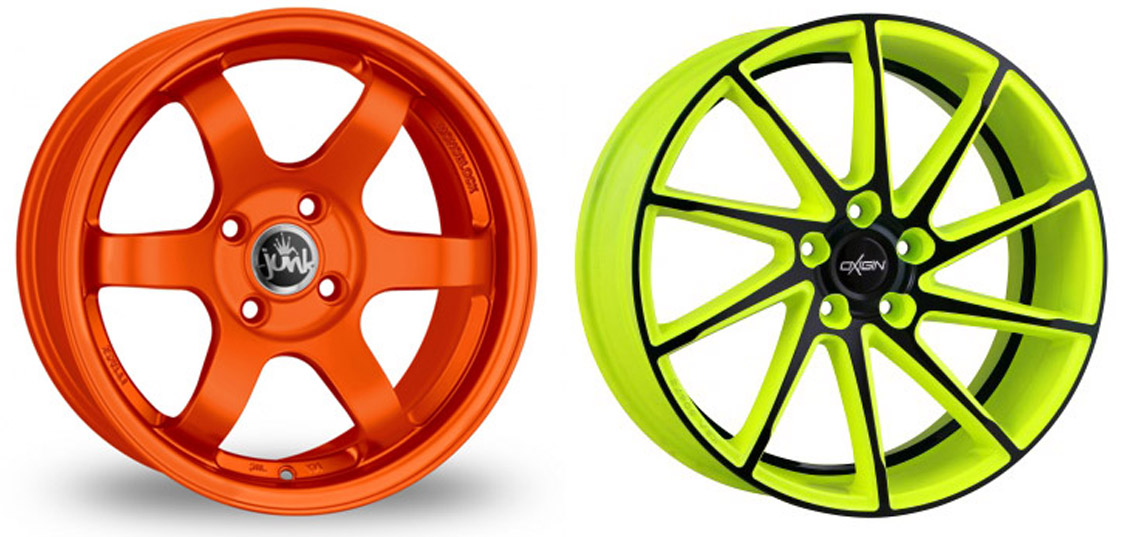 Further details and great information @ Performance Alloys.com

Maintenance : We clean alloy wheels here at Maun Motors with a pressure washer and specialist alloy wheel cleaner detergents (acid free - there are many acid wheel cleaners which can damage wheels if not used correctly and can lead to premature rusting of wheel studs, hubs and brake components!), but care needs to be taken - don't get wheel cleaning fluids on paintwork or glass and wear googles and gloves, or you'll regret it! Keep your new alloy wheels clean and they'll look the part for many years to come, beautifully enhancing any vehicle.
---
The Front End
Here's a 'standard' (if there is such a thing), VW Transporter T5 photographed from our stock list, it's a high-spec vehicle that most people would be delighted to own and drive - however for that individual personalised look, the addition of a few bolt-on components can radically change its appearance.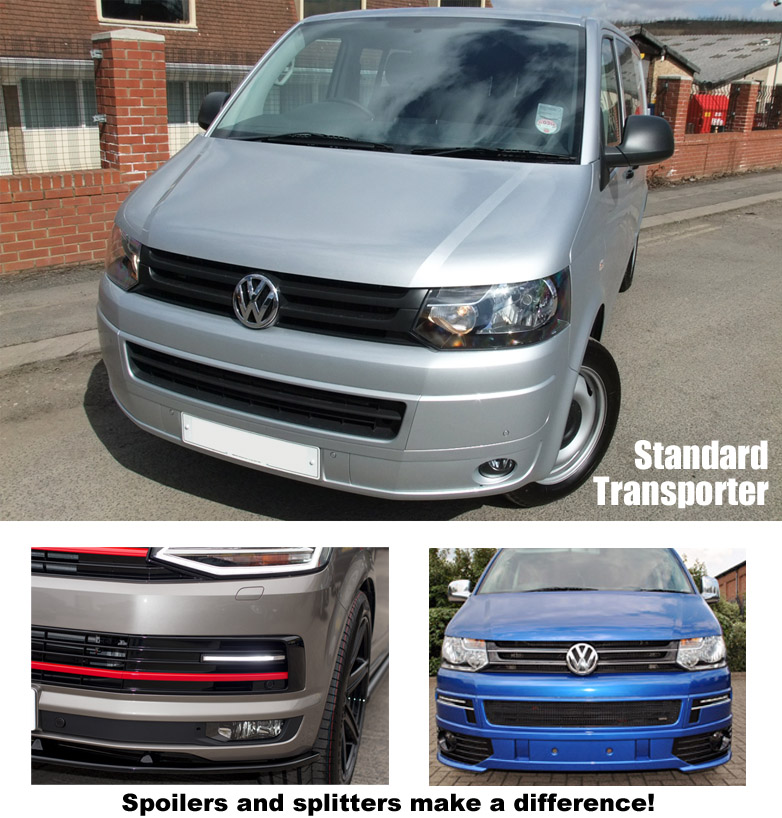 For that 'stand-out-from-the-crowd' look, a new front spoiler or splitter dramatically changes the front-end look and is definitely the way to go, complete with new fog lights, chrome inserts and 'slammed to the ground' aggressive looks; a sure winner in the custom stakes, although not quite as outrageous as the Volkswagen Transporter van we found on the 'Net (below)...

---
Side Steps, Bars and Running Boards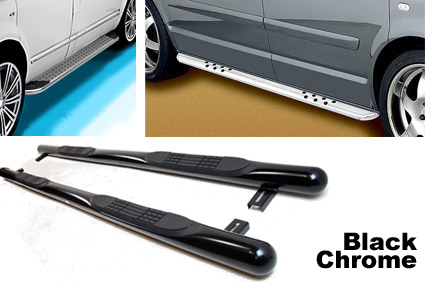 Fitting side-steps (or sliders) is a great way to help the whole family get in and out of your tall van, making access easier but at the same time enhancing the side-view of your motor and giving additional side-body protection.
A while ago, these bars were called 'Nerf Bars' (from the American usage), but nowadays - and here in the UK - they're generally named as: Sliders; Rock Bars or Side-Steps. www.vanstyle.co.uk
First seen on pick-up trucks, 4x4's or sport utility vehicles (SUV's) - this popular easy-fit addition has spread across a wide range of customised vehicles and is now seen on many personalised vans.
Acting as a step to make entry and exit from the vehicle easier and safer, or helping prevent damage when off-roading, side-steps add a sleek and subtle touch to your van. Having a side-step to clamber up also gives better access to any roof rails/racks and out-of-reach roof-mounted radio aerials!
There's plenty to choose from with many makes and designs available off the shelf. To keep things simple, go for the side-steps that fix to original mounting points - making the fitting an easy 'non-drill' operation for the average DIY mechanic.
---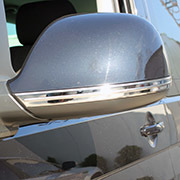 Easy-Fit Chrome
Polished stainless steel door mirror styling profiles enhance the look and feel of your VW van.
Generally, these products are 'non-drill' (we like that) - and are supplied with all the fixing materials needed to fit both left and right mirrors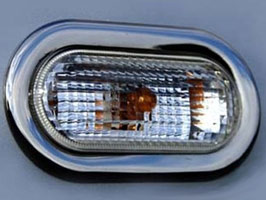 Side Indicator Rims
An easy-fit with instant improvement to the looks of your van!

Door Handle Insert Trim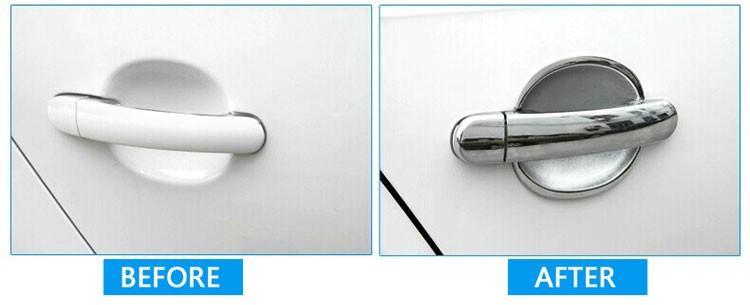 It's amazing the difference shiny chrome makes! Again easily fitted and not too expensive!
---
Luxurious Leather!

Some of our top-end, high-spec vans come with superb quality leather interiors, but there's a whole world of leather specialists who can re-trim or custom-make not just seats - but gear & handbrake gaiters, door-cards, head-linings, A-Post pillars, dashboards and sun visors.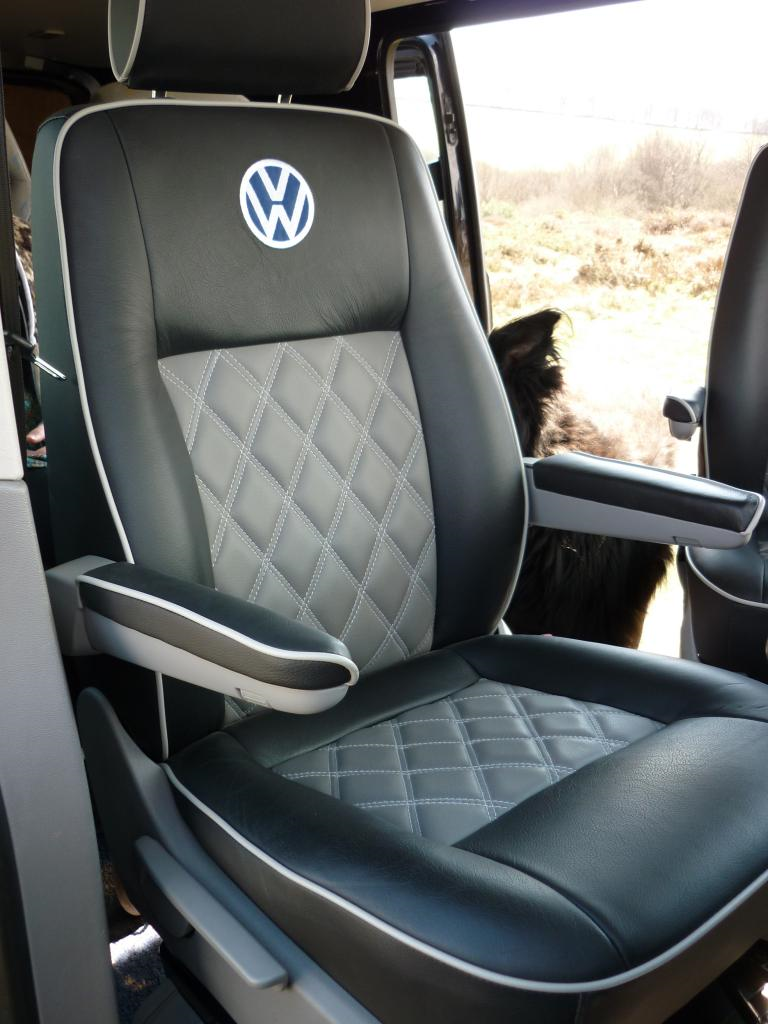 There's nothing like a custom leather Captains Seat to bring you that superb luxury van feel. The ultimate in comfort, looks and leathery 'smell-ability.' Seats like this (pictured left) can only add value and desirability to your motor...
You can even get seats that swivel, which can be spun around to face the interior, these are really the business! You don't have to stick to leather - there's lots of other materials to choose from; including vinyl, waterproof covers or specialist cloths. Check out this site for further details @ racelinesportsvans.com
Get the leather look for less!
Want the look of leather seats in your VW Transporter, but don't have the budget to purchase leather upholstered seats? (or maybe you're vegan?). Perhaps you've bought a Transporter Kombi with damage to the existing seat upholstery that you want to cover up?

VW Transporter converters GTE Custom Vans have the ideal solution - premium quilted vinyl seat covers with leather-effect grain which install easily over your existing seats! We've seen and used these ourselves and can confirm that both the looks and build quality of these covers is exceptional. They're well worth a look if you want to give the impression of leather seats in your van, without the hefty price tag. More info and orders from: https://www.gtecustomvans.co.uk/seat-covers.html
---
Dashboard Kits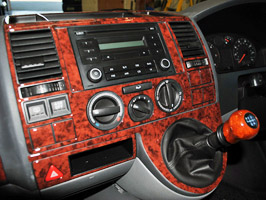 There are many dashboard kits available for the VW Transporter, available in wood finishes, walnut, carbon or aluminium these dash kits fit perfectly and upgrade the look of your van interior.
As well as getting a kit that covers the main centre console of the dashboard, you also get covers for around the inner door handles, air vents, light controls and glove box. Classy looking individualism that's not too expensive, but certainly makes a difference. www.vanstyle.co.uk
---
Mid-Van Bulkhead
Unlike many manufacturers such as Ford, Renault & Vauxhall, VW don't offer a mid-van bulkhead for their combi vans. A mid-van bulkhead fits behind the rear seats to segregate the load area, ensuring passengers don't suffer from 'flying cargo'.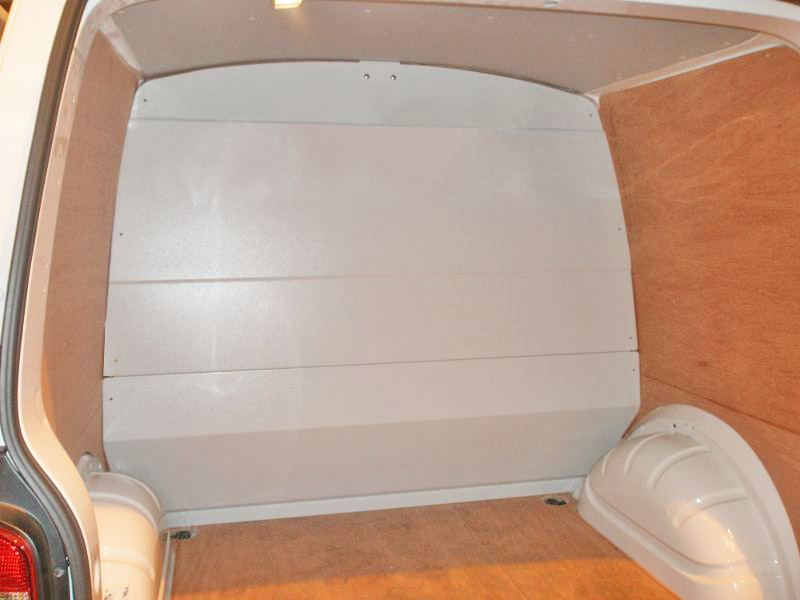 So this moulded ABS plastic model, available with or without windows - by O.E.-approved Dutch manufacturer Motexion - is as close as you can get to a genuine Volkswagen mid-van bulkhead. The next-best alternative is one available from CoTrim: http://www.cotrim.co.uk/volkswagen_bulkheads.html.
Andrew Kennedy, Commercial Sales Manager at Maun Motors, has experience of a number of mid-van bulkheads and he recommends the Motexion design for function, looks and practicality.
Andrew said: 'The ability to customise a Transporter to your requirements is limitless, I recently fitted a Motexion mid-van bulkhead for a customer - a family of triathlon enthusiasts - to increase safety, security and to deaden some of the noise from the cargo area. It only took me around half-an-hour to install and the customer was extremely pleased with the results.'
Andrew added : 'The Transporter is easy to drive, exceptionally well-equipped, comfortable and not too expensive to run & maintain for everyday use.'
The bulkhead came from Banwy Vans in Wales - click to: www.banwy.co.uk
Other suppliers with Mid-Van Bulkheads for Volkswagen Transporter Kombi vans for sale include: www.cotrim.co.uk
---
Front Bull Bars... Ouch!

Careful when fitting bull-bars! Nowadays bull-bars are frowned upon and can only be fitted as a replacement to an existing bar for vans registered before 25th May 2007, unless they are specifically approved as EU/UK legal.
Studies have shown that using bull bars increases the risk of death and serious injury to pedestrians. This is because the bull bar is rigid, and so transmits all the force to the pedestrian, unlike a bumper which resists some force and crumples. Due to the number of deaths and injuries caused by the rigid fronts of cars, often with metal bull-bars (2,000 deaths and 18,000 serious accidents per year in Europe, according to official studies in the UK), the sale of new metal bull-bars which did not comply with the European Union Directive was banned.
Modern design of bull-bars has advanced, with some vehicle manufacturers and aftermarket companies now offering impact bars which integrate with the vehicle safety system, such as activation of airbags after collision with the bull-bar!
There are some excellent aftermarket bars available which are crash tested, EU/UK road legal, TÜV-approved, and really look the part too!
Such as these from TVA Styling.
---
More a Way of Life...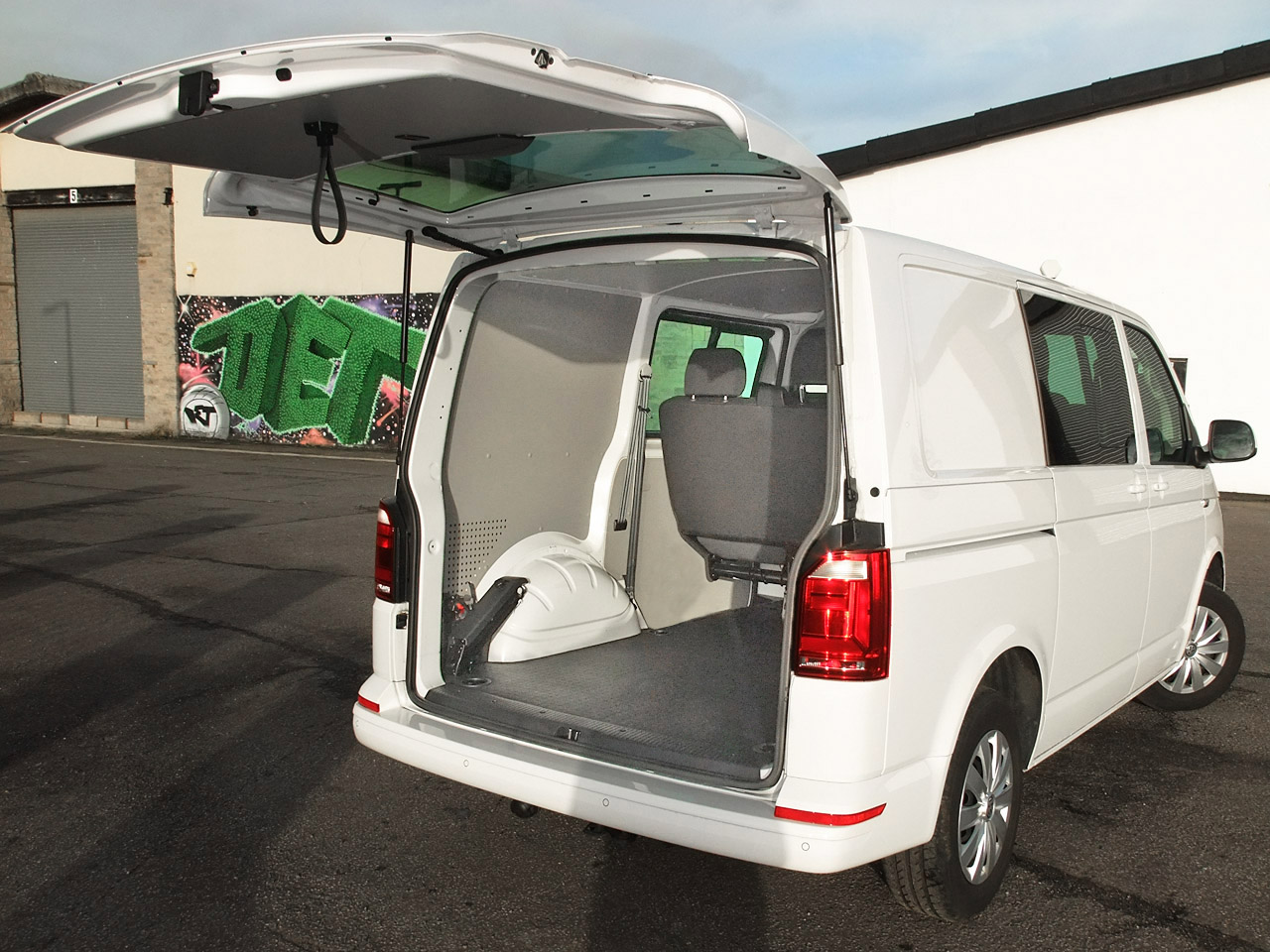 The VW Transporter Kombi is the ideal vehicle to carry all the family and can be customised to suit many different lifestyles. With the capacity to carry a family of up to 5 or 6, their luggage (and bikes), the Transporter is a very impressive, versatile vehicle with a great following from active outdoor-loving types.
Water sports equipment for surfing, skiing and diving is easily accommodated in the Transporters' voluminous interior with flexible seating making stowage safe and easy. Anglers appreciate the space to carry all their equipment for a serious fishing session (a LWB Kombi will accommodate a broken-down 12 foot rod behind the rear seats) and mountain bikers enjoy the way a Transporter can be adapted and accessorised to suit their needs.
The huge tailgate - when it's opened - makes a great place to shelter from the elements, an ideal area to get changed; sort out equipment or just enjoy a cup of coffee!
The Internet has many VW 'communities' and news, information and ideas - visit vw4forum.co.uk - a great site to visit if you are into VW's!
---